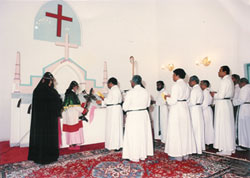 In early 1960s, the marthoma Christians who came to UAE in search of job, gathered together for worship at Dubai. In March 1977, The Sharjah prayer group which was a part of Dubai Marthoma Parish gathered to discuss on the formation of a parish in Sharjah. Around 70 people took part in the meeting.
On the basis of continuous discussion on this regard, the prayer group decided on the formation of a parish in Sharjah which was to include prayer groups from Ras Al Khaimah, Fujairah, Ajman, and Umm Al Quwain. This decision was presented to the then Diocesan Episcopa Rt. Rev. Dr.Philipose Mar Chrysostom metropolitan on 11th April 1978 during his visit to Dubai. In accordance with this request, permission to form a parish in Sharjah was granted, which was authorized by His Grace Dr.Alexander Marthoma Metropolitan in July 1978. Rev M.V.Thomas was appointed as the vicar of The Sharjah Marthoma Parish. There was great co-operation from Dubai Marthoma Parish and the continuous effort of Vicars and members of parish helped for establishing a new parish.
Worship and Holy Communion took place at Sharjah Ecumenical church for quite a long time.
In 1995 His Highness Sheikh Dr. Sultan Bin Mohammed Al Qasimi Member of Supreme Council & Ruler of Sharjah, allotted us land to build the church complex. In this occasion, we express our gratitude and sincere thanks to the ruler of Sharjah. It was the first own church building of the Mar Thoma Church in the Arabian Gulf area which was consecrated by His Grace Most Rev. Dr. Alexander Mar Thoma Metropolitan on 26th September 1997 in the presence of Rt. Rev. Dr. Euyakim Mar Coorilos and Rt. Rev. Joseph Mar Barnabas. Our long cherished dream of worshiping in our own church building in the Middle East came into reality when His Lordship Rt. Rev Joseph Mar Barnabas Episcopa celebrated the first Holy Communion service at the new church on Sunday 28th September 1997. 23rd March 2001, Dr. Alexander Mar Thoma Memorial Parish Hall and parsonage was dedicated by the then Diocesan Bishop Rt. Rev. Dr. Euyakim Mar Coorilos Episcopa. In 2007 June 29th, Dr. Philipose Mar Chrysostom Valiya Metropolitan Navathi Hall was dedicated by the Diocesan Episcopa Rt. Rev. Geevarghese Mar Athanasius. With this achievement the dream of Sharjah Marthoma Parish complex was attained.
In 2003 silver jubilee was celebrated. During this period of time, we have continued in to many charity projects in different places in India. Which includes the Kalahandy development project, housing projects, hostel developments, medical aids, marriage aid, educational support, aids during natural calamities etc... Also, one of our major projects under implementation is "Angadicherrythattu", a remote village in Kannur district, Kerala, we aim for the total development of the village irrespective of any religion or caste barriers. Now the church has members of around 4000+ includes families.